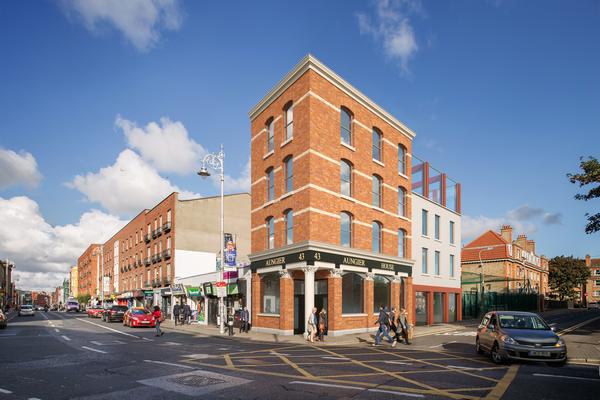 Aungier House
Aungier St, Dublin, 2017
CLIENT: Private
This Victorian public house is located the southern end of Aungier Street. Considered one of the earliest examples of formal town planning in Dublin, the street was set out in 1660 bisecting the original Whitefriars or Carmelite enclosure, the circular outline line of which may be still seen in the form of Peterís Row and Stephen Streets Upper and Lower. While some of the buildings in Aungier Street may be traced back to the late seventeenth century, No 43 was entirely rebuilt in 1883 on the site of a public house dating back until at least 1830.
After a period of dereliction the property came into the ownership of Dublin City Council which invited tenders/proposals for its re-use in late 2016. Our clients, who have a track record in the hospitality sector, commissioned us to make proposals for a public house with roof garden and this was the preferred bid, approved by council in December 2016. A planning application will be made in early 2017.